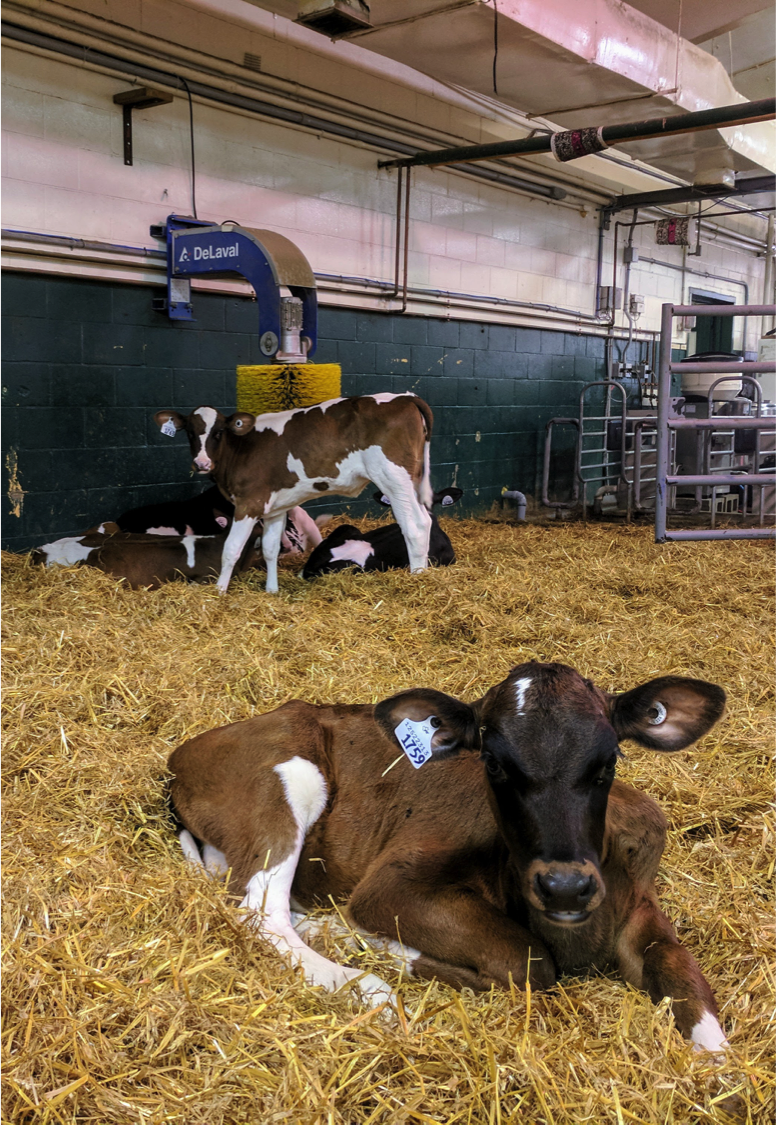 Research Program
Research at the DRTC is focused on enhancing the efficiency of conversion of forages, cereals, and oilseeds to milk and meat in an environmentally sustainable manner. There is emphasis on the influence of nutrition on gene expression in the gut and mammary gland to improve the biological efficiency of milk synthesis and its quality as human food. 
Studies in digestive physiology aim to maximize nutrient delivery to the intestine and mammary gland through the manipulation of ruminal fermentation to optimize forage and grain digestion plus microbial protein synthesis. Lactation physiology research is focused on the transport of milk precursors, such as glucose, across the mammary gland, and the role of the endocrine system in controlling nutrient supply to the mammary gland.  
An increased understanding of the influence of nutrition on the regulation of gene expression in the mammary gland, gastrointestinal tract, liver, adipose tissue, and skeletal muscle is a prerequisite to future progress in enhancing the efficiency of milk synthesis as well as its nutritional quality for humans.  
Research Facilities
The DRTC's Dairy Unit is located at the Edmonton Research Station. The DRTC, along with swine, poultry, and crop research facilities, sit on two-quarters of land on the U of A's South Campus. The Dairy Unit has a herd of about 150 Holstein Cows housed in a 350-foot long barn with 146 tie stalls. On average, 135 producing cows and 25 close-up dry cows are accommodated in stalls. Dry cows and heifers are moved to stalls 21 days prior to their due date. Cows are milked twice a day, and it takes 2.5 to 3 hours to milk 130-140 cows. The DRTC has the ability to measure dry matter intake for every cow, every day. The DRTC barn is staffed with a manager, an herdsman, full-time and part-time staff.
The offices of the principal investigators and laboratories are located at the Agriculture-Forestry Centre located on the U of A main campus and at Alberta Agriculture and Rural Development (AARD). Equipment and capability available in these laboratories include cell culture, radioisotope labs, proximate analysis, radioimmunoassay, gas chromatography, high-pressure liquid chromatography, in-vitro fermentation, and molecular biology facilities. Other facilities available to the principal investigators include the feed mill at the Edmonton Research Centre and the Laird McElroy Environmental and Metabolic Research Centre.
The calf facility was renovated in 2014 after the DRTC received funding from Growing Forward 2. New ventilation, new individual and group calf pens, and automatic milking systems were installed. The DRTC can now measure milk, starter, and water intake for each calf for both pre- and post-weaning.